Carbon Emissions During the Pandemic – Quebec Elections – News, Legislation, and Events
THE CATHOLIC COMMONS
Carbon Emissions During the Pandemic – Quebec Elections – News, Legislation, and Events
August / September 2022
Mary, Queen of Heaven
On August 22nd the Church celebrated the feast of Mary, Queen of Heaven.  Marian feast days are always dear to the heart of Catholic Conscience, which is consecrated to her, co-chair of our Board of Patron Saints.
Why do we celebrate Mary as Queen of Heaven?  The Basilica of the National Shrine of the Immaculate Conception in Washington, DC offers beautiful answer[1]:
[1] https://www.nationalshrine.org/blog/celebrating-marys-queenship-of-heaven-and-earth/#:~:text=According%20to%20Catholic%20tradition%2C%20as,as%20mother%20to%20the%20Savior
Why We Honor Mary as Queen
The Memorial of the Queenship of Mary was first instituted in 1954 by Pope Pius XII. According to Catholic tradition, as Christ is king of the world and saves the people from their sins, Mary is queen over the earth because of her role in the story of divine redemption, serving as mother to the Savior. Pope Benedict XVI described this relationship, saying:
The small and simple young girl of Nazareth became Queen of the world! This is one of the marvels that reveal God's Heart. Of course, Mary's queenship is totally relative to Christ's kingship. He is the Lord whom after the humiliation of death on the Cross the Father exalted above any other creature in Heaven and on earth and under the earth (cf. Phil 2: 9-11). Through a design of grace, the Immaculate Mother was fully associated with the mystery of the Son: in his Incarnation; in his earthly life, at first hidden at Nazareth and then manifested in the messianic ministry; in his Passion and death; and finally, in the glory of his Resurrection and Ascension into Heaven.[2]
How Mary Serves as Queen
Just as Christ our king came and offered himself as a servant, Mary also offered herself as a servant to God, obedient to his will. As Pope Benedict XVI once noted:
Mary… is Queen in her service to God for humanity, she is a Queen of love who lives the gift of herself to God so as to enter into the plan of man's salvation. She answered the Angel: "Behold, I am the handmaid of the Lord" (cf. Lk 1:38) and in the Magnificat she sings: God has regarded the low estate of his handmaiden (cf. Lk 1:48). She helps us. She is Queen precisely by loving us, by helping us in our every need; she is our sister, a humble handmaid.
Join us this month in a prayer to the Queen of Heaven, Santa Maria, Reina de los Angeles
[2] https://www.vatican.va/content/benedict-xvi/en/angelus/2010/documents/hf_ben-xvi_ang_20100822.pdf
Elizabeth II, Queen of the United Kingdom
Elizabeth was not Catholic – she was head of our sisters and brothers in the Anglican Church.  Yet she is reported to have been a devout Christian, who lived her faith not by empty words but by the piety of a lifetime of innumerable good works and dedication to duty and to public service for the benefit of others, expressing for many years her deepd for the environment and other social issues, and the poor: a dutiful and hard-working servant of Christ.
According to the Catholic World Report,[3]
She was a resolute proponent of the practice of religion, whether Christian or not. She used her most recent Christmas Day message to call for interfaith harmony. On the occasion of the Diamond Jubilee marking the 60th year of her reign in 2012, she and the duke of Edinburgh attended a multi-faith reception at Lambeth Palace hosted by the archbishop of Canterbury.  "Faith plays a key role in the identity of millions of people, providing not only a system of belief but also a sense of belonging. It can act as a spur for social action," the Queen said.
"Indeed," she continued, "religious groups have a proud track record of helping those in the greatest need, including the sick, the elderly, the lonely, and the disadvantaged. They remind us of the responsibilities we have beyond ourselves."
CWR also reported that Elizabeth enjoyed "a deep vibrancy of faith," and read Scripture daily.  In a time of political divisiveness, nationalism, and demogogery, and despite the fact that she was but thrust into her role as Queen while still by her father's early death from lung cancer, Elizabeth was widely viewed as remarkable among monarchs: hard-working, humble, and prudent, seeking continually for wisdom and drawing from the Christian Gospel.
Let us add Elizabeth II to our prayers, that she might continue to guide a troubled and divided world.  And let us pray for more leaders like her.
[3] https://www.catholicworldreport.com/2022/09/08/breaking-news-queen-elizabeth-dies-at-96/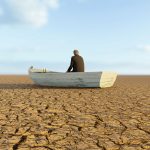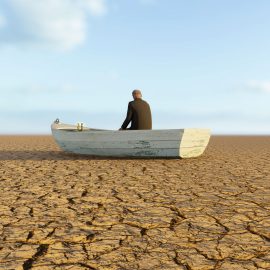 Carbon Emissions & the Pandemic: A Lesson in Science, Wisdom and Prudence
An article[4] published late last year by the US National Aeronautics and Space Administration's Jet Propulsion Laboratory (JPL) has answered a question that has been on the minds of environmentally-conscious people since the beginning of pandemic lockdowns:  how much of a break did the immense slowdown in commuting, air travel, and other forms of polluting activity give to the earth's atmosphere?  In a few words, the answer was 'not much, and things may be more challenging than we thought.'
Authors of the article concluded that the most immediate lesson for earth's occupants was that relationships between emissions and climate change are even more complicated and harmful than environmental scientists had previously believed.  For observers and philosophers, an even larger lesson may be that despite the enormous benefits it brings, science is neither omniscient nor omnipotent. It is a great tool for humanity, but it is neither the beginning nor the end: neither the alpha nor the omega.  We are reminded once again that there is no substitute for patience in the pursuit of scientific study, or prudence in all of our wordly activities.  Science provides us with invaluable revelation and understanding of facts, which can, when wisely applied with a rational eye toward the moral consequences of the choices that stand before, guide us toward proper stewardship of the planet for the sake of our children and grandchildren.
The article describes a study, published November 9 in the Proceedings of the National Academy of Sciences, arising from a workshop sponsored by the California Institute of Technology, that included participants from about 20 universities in the US and elsewhere, as well as US federal and state agencies and several independent laboratories.  The study looked at four types of emissions:  carbon dioxide, methane, nitrogen oxides, and microscopic nitrates.
To authors of the study, the most surprising conclusion was that while carbon dioxide (CO) emissions fell by 5.4% in 2020, the amount of CO in the atmosphere continued to grow at about the same rate as in preceding years.  "'During previous socioeconomic disruptions, like the 1973 oil shortage, you could immediately see a change in the growth rate of CO,' said David Schimel, head of JPL's carbon group and a co-author of the study. 'We all expected to see it this time, too.'"
However, data from NASA's Orbiting Carbon Observatory-2 satellite suggested that while a significant (5.4%) drop in emissions occurred, atmospheric concentrations continued to rise within the normal range of year-to-year variation.  Another surprise was that the ocean absorbed less  carbon monoxide from the atmosphere than it had in other recent years.  Probably, NASA explained, this was because there is already so much carbon stored in the ocean that the reduced content of CO in the atmosphere just caused some of it to be released.
A further surprise related to sudden drops in nitrogen oxide (NOx) emissions.  "NOx chemistry is this incredibly complicated ball of yarn, where you tug on one part and five other parts change," said the study's lead author, Joshua Laughner.  Unexpectedly, the NOx reductions – as beneficial as they were in  helping to reduce air pollution, also limited the atmosphere'sability to clean itself of methane, and other leading greenhouse gas.
Points to ponder:
What does the fact that these and other troubling effects were unexpected, even by environental scientists at NASA, say about the omniscience and omnipotence of science view that is too often expressed in popular culture?
What do these results say about the wisdom of continuing to put poisons into our environment, even when we don't understand the long term consequences?
Who loses, when we put long-term poisons into the air, the ground, or the water? Do we ourselves pay the consequences, or is the bill to be left for our children, our grandchildren, and others to pay? How do we prevent those costs and consequences from falling upon those in other parts of the world?  Upon those in future generations?  Upon other species, for example in terms of loss of habitat and loss of biological diversity, upon which our own survival in turn depends?
How do, or should, we take steps to ensure that those who cause environmental harm are made responsible for its mitigation, rather than permitting those harms to affect others?
[4] https://climate.nasa.gov/news/3129/emission-reductions-from-pandemic-had-unexpected-effects-on-atmosphere/
🇨🇦 CANADA
House of Commons

C-18 – Online News Act – 2nd reading and referral to committee, May 31, 2022
Gov't bill, to regulate online news and news providers
C-27— Act to enact the Consumer Privacy Protection Act, the Personal Information and Data Protection Tribunal Act, and the Artificial Intelligence and Data Act and to make consequential and related amendments to other Acts – 1st reading
Government Bill, Liberal, June 16, 2022.
C-230 – To Protect Conscience Rights – debate at 2nd reading, March 28, 2022, Conservative private member's bill
C-257 – Protect Against Discrimination Based on Political Belief – 1st reading
Conservative Private member's bill
C-243 – Elimination of the use of forced labour and child labour in supply chains – 1st reading
Liberal Private member's bill
C-246—Act to amend the Constitution Act, 1867 (representation in the House of Commons; require at least 25% of the total members in the House of Commons be from Quebec, Private Bill, Bloc Quebecois – defeated at 2nd reading June 8, 2022.
C-255 – Financial assistance for Canadians with disabilities to improve access to post-secondary education – 1st reading, NDP Private member's bill
C-273 – Repeal a provision that authorizes the correction of a child by force- 1st reading
NDP Private member's bill
Senate

S-5 – Strenthening Environmental Protection for a Healthier Canada, 3rd reading complete June 22nd, 2022
S-201—Act to amend the Canada Elections Act and the Regulation Adapting the Canada Elections Act for the Purposes of a Referendum (lower voting age from 18 to 16), Public Bill, debate at second reading May 17, 2022
S-203—Act respecting a federal framework on autism spectrum disorder (to support those with autism, their families and caregivers), Public Bill, 3rd reading completed May 12, 2022
S-210 – To Restrict Young Persons' Online Access to Explicit Material, referred to committee
S-223 – New Offences Related to Trafficking in Human Organs – public bill, 2nd reading
May 18, 2022
S-232  -Decriminalization of Illegal Substances, debate at 2nd reading, May 12, 2022
S-233 – Framework for a guaranteed livable basic income – Debate at 2nd reading, June 7, 2022
S-243  To enact climate commitments – debate at 2nd reading, May 12, 2022
S-250 — An Act to amend the Criminal Code (sterilization procedures; 14 year imprisonment maximum for sterilization procedures conducted without consent, not performed by a medical practitioner) – 1st reading June 14, 2022
S-251—Act to repeal section 43 of the Criminal Code (Truth and Reconciliation Commission of Canada's call to action number 6; schoolteacher, parent or person standing in the place of a parent is no longer justified in using force by way of correction toward a pupil or child, who is under his care, if the force does not exceed what is reasonable under the circumstances, Senate Public Bill, 1st reading June 16, 2022.
Supreme Court
 B.J.T. v. J.D., 2022 SCC 24, child custody ruling owed deference, appeal court may only change a ruling if there was a material error, serious misapprehension of the evidence, or error in law, biological ties carry minimal weight in best interest of child; appeal allowed and order of the hearing judge restored, written reasons issued June 3, 2022.
O Mary Immaculate Queen, look down upon this distressed and suffering world. You know our misery andour weakness.O thou who art our Mother, saving us in the hour of peril, have compassion on us in thesedays of great and heavy trial.
Jesus has confided to you the treasure of His grace, and through you He wills to grant us pardon and mercy.In these hours of anguish, therefore, your children come to you as their hope.
We recognize your Queenship and ardently desire your triumph. We need a Mother and a Mother's Heart.You arefor us the luminous dawn which dissipates our darkness and points out the way to life. In yourclemency obtain for us the courage and the confidence of which we have such need.
Most Holy and Adorable Trinity, You Who did crown with glory in Heaven the Blessed Virgin
Mary, Motherof theSavior, grant that all her children on earth may acknowledge her as their Sovereign Queen, that allhearts, homes, and nations may recognize her rights as Mother and as Queen.
Mary Immaculate Queen, triumph and reign!
Amen
If you are able, please consider a donation.  We're growing faster than we can keep up. Your donation will help us to expand our resources to support our mission.