Truth & Light:  Truth in Journalism – Mysteries of Light
THE CATHOLIC COMMONS
Truth & Light: Truth in Journalism – Mysteries of Light
January / February 2023
Thanks to all of you, the word is spreading. 
In 2017 – our first year – we had a few hundred website visits and hosted perhaps half a dozen local parish events.  Last year we had tens of thousands of visits, including page views from virtually every country on earth, and by making use of local volunteers we supported live events far removed from our point of origin.  Our materials were used by classes, discussion groups, and voters in dozens of countries, and we were invited to consult on elections on three continents.
Our first major annual report will be ready for sharing soon.  In the meantime, many thanks to all of you, including not only our site visitors but those who partnered with us remotely and of course several very generous donors.  It's an exciting privilege to be able to contribute in these ways.
We give thanks in prayer.
A milestone for the Mysteries of Light
Although it slipped by unnoticed by many people, the anniversary of a tremendous gift to humanity passed last year:  the Luminous Mysteries of the Rosary, proposed Pope Saint John Paul II, turned twenty on October 16.  These mysteries, being focused on Christ's mission and teachings, are of primary significance for the true progress and welfare of society.
Together with the Mass, Adoration, and several other forms of prayer, the Rosary is among the most powerful forms of Catholic Devotion.  The Rosary's power has been demonstrated over and over again, through hundreds of years of history – in the legacy of Guadalupe; at Lepanto, Lourdes, the Rue de Bac, Fatima, Hiroshima, Amsterdam, Vienna, Akita, Kibeho, and Medjugorje, and in countless profound personal graces granted to many millions of people.
It is a very ancient prayer, evolved from earlier forms which include monastic recitation of the psalms and taking the shape we recognize nearly 1000 years ago.  For many centuries it consisted of contemplative recitation of 150 Hail Marys, and it has always been intended as a way of promoting reflection on the life of Christ:  originally, his birth and infancy, his passion, and his resurrection and ascension, along the descent of the Holy Spirit and the Assumption and Coronation of his Mother.
In his 2002 apostolic letter Rosarium Virginis Mariae, Saint John Paul II proposed the addition of five new decades, devoted to reflection on the light brought to us through the mission, the teachings, and the person of Jesus Christ:
…the whole mystery of Christ is a mystery of light. He is the "light of the world" (Jn 8:12). Yet this truth emerges in a special way during the years of his public life, when he proclaims the Gospel of the Kingdom. In proposing to the Christian community five significant moments – "luminous" mysteries – during this phase of Christ's life, I think that the following can be fittingly singled out: (1) his Baptism in the Jordan, (2) his self-manifestation at the wedding of Cana, (3) his proclamation of the Kingdom of God, with his call to conversion, (4) his Transfiguration, and finally, (5) his institution of the Eucharist, as the sacramental expression of the Paschal Mystery.  Each of these mysteries is a revelation of the Kingdom now present in the very person of Jesus. 
The Baptism in the Jordan is first of all a mystery of light. Here, as Christ descends into the waters, the innocent one who became "sin" for our sake (cf. 2Cor 5:21), the heavens open wide and the voice of the Father declares him the beloved Son (cf. Mt 3:17 and parallels), while the Spirit descends on him to invest him with the mission which he is to carry out.
Another mystery of light is the first of the signs, given at Cana (cf. Jn 2:1- 12), when Christ changes water into wine and opens the hearts of the disciples to faith, thanks to the intervention of Mary, the first among believers.
Another mystery of light is the preaching by which Jesus proclaims the coming of the Kingdom of God, calls to conversion (cf. Mk 1:15) and forgives the sins of all who draw near to him in humble trust (cf. Mk 2:3-13; Lk 7:47- 48): the inauguration of that ministry of mercy which he continues to exercise until the end of the world, particularly through the Sacrament of Reconciliation which he has entrusted to his Church (cf. Jn 20:22-23).
The mystery of light par excellence is the Transfiguration, traditionally believed to have taken place on Mount Tabor. The glory of the Godhead shines forth from the face of Christ as the Father commands the astonished Apostles to "listen to him" (cf. Lk 9:35 and parallels) and to prepare to experience with him the agony of the Passion, so as to come with him to the joy of the Resurrection and a life transfigured by the Holy Spirit.
A final mystery of light is the institution of the Eucharist, in which Christ offers his body and blood as food under the signs of bread and wine, and testifies "to the end" his love for humanity (Jn 13:1), for whose salvation he will offer himself in sacrifice.
It is clear that these mysteries provide fertile ground for reflection on the challenges facing society, and as well as inspiration for the mission we share with you of civic evangelization.  And they have special implications for the quest for truth in public discourse.
The addition of these reflections to such an ancient prayer, in our own time, is a remarkable gift.
Holy Mary, Mother of God, pray for us sinners, that we may be worthy of the love and the promises of Christ.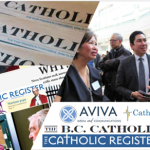 Truth, Journalism, and Responsible Citizenship
Two of the fundamental values taught by the Church's social doctrine – in line with the IXth Commandment – are truth and freedom:  every individual must have freedom to freely make his or her own choices in his or her search for truth; and the truth illuminates the path to God, informing our ability to love our neighbours.  Yet human society, having been given 2000 years to reflect on the message of Christ, continues to struggle with lies and distortions, even emanating from the highest of social offices.
Even after two world wars that killed millions of innocent people; after the trial and failure of multiple flawed forms of government that killed millions more, including fascism, radical nationalism, and communist atheism, our own freely-chosen democracies have allowed cultures of soothing lies, fantasies, and distortions to take root and lure us – ourselves – passively away from the truth.  We too often fail to teach children the critical thinking skills that might otherwise help them perceive more clearly and rapidly ignoring the laws of physics, chemistry, and biology, along with God's other clearly-stated commandments, and to understand that they are seldom the sole legitimate arbiters of their own "truths."  Despite the warnings of as many as three generations of sincere scientists, we continue to cause irreparable damage to our environment, solely for our own short-term convenience.  Too many popular "news" sources have chosen deliberately to reject long-established ethical principles of journalism intended to foster the revelation of truth through objective, patient, and diligent investigation, and balanced reporting, by reasonable people of good faith and good will.  Rather, they have adopted the course of open partisanship and manipulation, abandoning all pretense of objectivity, balance and respect for alternative, fact-based points of view.  For some of these "news" sources, deliberately bearing false witness is their primary stock in trade, and a major source of profit.
It would seem that our society is rapidly approaching a crisis which may be harmful to many, many people, including all future generations.
It's time to sit back and quickly, quietly, and sincerely reflect on the nature of truth, and how we hope to arm ourselves with it. Our recently deceased, beloved shepherd Benedict XVI offers a good starting point in his eloquent 2009 encyclical Caritas in veritate.  Two further opportunities are offered in the near future.  Both are easily accessible, being offered online to everyone who is interested:
On March 10 and 11, EWTN and Franciscan University will host a seminar "Journalism in a Post-Truth World."  Registrants can attend online or in person in Washington D.C..  Registration is available at https://franciscan.edu/journalism-in-a-post-truth-world/.
Beginning February 21, the Saint Monica Institute, in partnership with the Catholic Register and B.C. Catholic newspapers, is offering an 8-week online seminar "Telling Truth in Charity," introducing the ethics, mechanics, and purposes of Catholic reporting and communications.  Registration is available at https://learning.saintmonicainstitute.ca/products/Introduction-to-Catholic-Journalism.aspx
Those having an interest in truth, and particularly those interested in helping the cause of truthful, charitable journalism, are encouraged to register for either or both of these courses.
Thursday, February 23, 2023:  Cathonomics & Integral Ecology – Live Event
Anthony Annett, PhD., senior advisor at the Sustainable Development Solutions Network, will speak on the subject of treating people and the environment in accordance with the inherent dignity of each as a part of the Faith and Reason lecture series, live at the Newman Center Catholic mission at the University of Toronto.  Registration is available at https://www.eventbrite.ca/e/faith-reason-event-cathonomics-integral-ecology-tickets-529797597877 for this free-will offering event.
A prayer to our Patroness in the search for truth
Saint Benedicta of the Cross, born Edith Stein in Breslau, Germany on Yom Kippur of the year 1891, was the youngest of 11 children in a devout Jewish home.  From earliest youth she consciously and continually strove to find the truth.  Her search led her to universities, the battlefields of World War I, and ultimately to the Carmelite order: having chanced upon and read the autobiography of Saint Teresa of Avila, she announced to a friend "this is truth" and began the conversion that led her to the Carmelites.  Despite the efforts of her order to save her, she was eventually arrested by the Gestapo and sent to the gas chambers at Auschwitz.  The last words she was heard to speak in the convent were addressed to her sister, who had chosen to follow her: "Come, Rosa, we are going for our people."
Saint Benedicta left the following comment in her writings:  "During the time immediately before and quite some time after my conversion I … thought that leading a religious life meant giving up all earthly things and having one's mind fixed on divine things only. Gradually, however, I learnt that other things are expected of us in this world… I even believe that the deeper someone is drawn to God, the more he has to `get beyond himself' in this sense, that is, go into the world and carry divine life into it."
As our model of devotion to the search for truth, we pray to Saint Teresa to help us find our way along the path of light:
Dear Sister Teresa Benedicta of the Cross,
Child of the Day of Atonement – Yom Kippur,
Daughter of Abraham,
Bride of Christ,
Seeker of truth,
Scholar of the Church,
Handmaid of Our Lady of Mt. Carmel,
Servant of the Suffering Servant,
Presence of mercy,
Victim of victimizer,
Embracer of the Cross of Christ-like love,
Martyr of Auschwitz,
Imitator of Jesus,
Conqueror of evil,
Friend of God, Edith,
Please pray for us.
Intercede for us, as you did for your people and for all people, in the cause of truth, so that society may find its way in nurturing the true humanity and welfare of all.
Amen.
Saint Edith Stein, Sister Teresa Benedicta of the Cross, Pray for us.
https://www.catholicculture.org/culture/liturgicalyear/prayers/view.cfm?id=1319
We're busy, and growing – the harvest is plentiful, but the laborers are few. Please consider helping if you can. This year we plan to move into at least four new jurisdictions, and we may face surprise elections elsewhere. While most of our labourers are willing to help us for free, that doesn't seem right to us. It takes time to do the job right, and we like to offer stipends. As Saint Paul said, "a worker deserves her pay."