OUR PROGRAMS
CATHOLIC LEADERS MISSION
CATHOLIC ACTION CAMPAIGN
CATHOLIC CIVIC EDUCATION
This program will...
Train Catholics to effectively and generously serve as leaders in civic and political vocations, including as elected officials, through hard skills training as well as formation in Catholic social teaching and humble, magnanimous leadership.
Increase and improve Catholic voter turnout; increase knowledge of party platforms + Catholic social teaching through non-partisan get-out-the-vote programs in the Catholic community.
We offer written and spoken educational materials, including thoughtful reflections by diverse, advocates, experts, leaders, and lay activists to share ideas about tackling key social challenges from a Catholic perspective, and living as a Catholic active in politics and civic life, serving all our neighbours as well-formed Catholic citizens.
Resulting in...
BETTER FORMED POLITICAL LEADERS, COMMITTED TO THE COMMON GOOD
BETTER FORMED & INFORMED CATHOLIC VOTERS, COMMITTED TO THE COMMON GOOD
BETTER FORMED & INFORMED CATHOLIC CITIZENS, COMMITTED TO THE COMMON GOOD
Supporting our mission to form…

Energetic Catholic engagement and leadership in Canadian democracy as a communal act of civic evangelization, a lay apostolate wherein Christ's disciples in Canada may bring the light of Christ to all in political life.

Through love of God and neighbour, prayer, good formation in Catholic social teaching, and the inspiration of the Holy Spirit touching the hearts of Canadian Catholics and inspiring their own civic vocations, we envision the Canadian Catholic community making a profound and lasting impact for the common good of all Canadians.
Our programs are aimed at inspiring, forming, and sending Common Good Catholics to serve Canadians and lead Canadian communities, rooted in Catholic social teaching.
Learn more about our work and how you can get involved.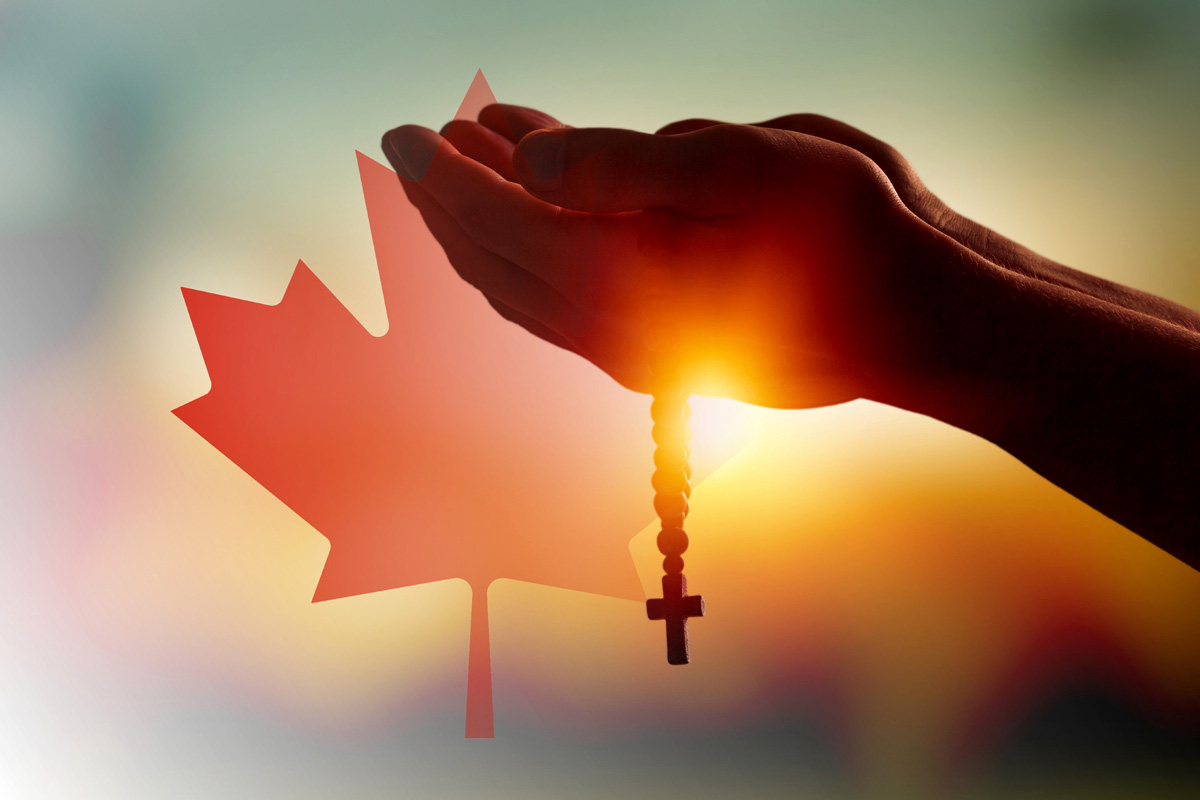 "Politics, though often denigrated, remains a lofty vocation and one of the highest forms of charity, in as much as it seeks the common good," Pope Francis once said. In the spirit of helping Catholics pursue a vocation in politics—inspired by a spirit of service to Canadians and the common good—our Catholic Leaders Mission program trains Catholic aspirants for office in the skills needed to succeed, and formation in Catholic social teaching.
Catholic Action Campaigns
Catholics make up Canada's largest religious community. Collectively, our votes make an enormous impact on the outcome of federal and provincial elections. As Catholics we are called to prayerfully and thoughtfully discern our vote, think about our political moral framework through the lens of Catholic social teaching—and get out to vote with our family and friends!
Our Catholic Action campaigns are non-partisan efforts geared toward educating and engaging voters through get-out-the-vote campaigns and production of summaries and full-blown analyses of federal and provincial party platforms in the light of the full range of Catholic social teaching; with the aim of mobilizing Catholics in an informed and prayerful manner to go out and vote thoughtfully - with the goal of gathering everyone for thoughtful and respectful dialog.  We don't want any specific results:  our goal is to improve the entire civic conversation, so that we are lead by wise, humble, and respectful leaders who will truly seek the common good.  Our first Catholic Action campaign was for the 2019 federal election, an unprecedented effort that reached thousands of Catholic voters in the GTA.
Learn more about Catholic Action Campaigns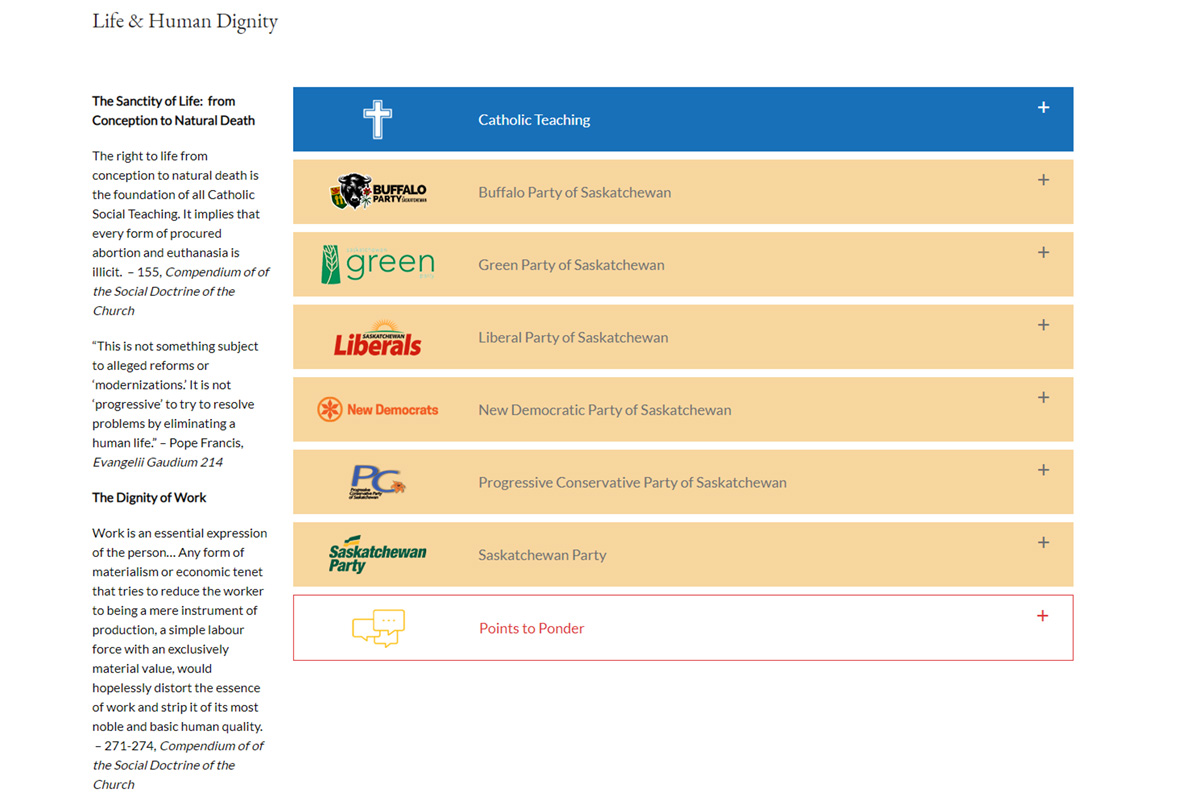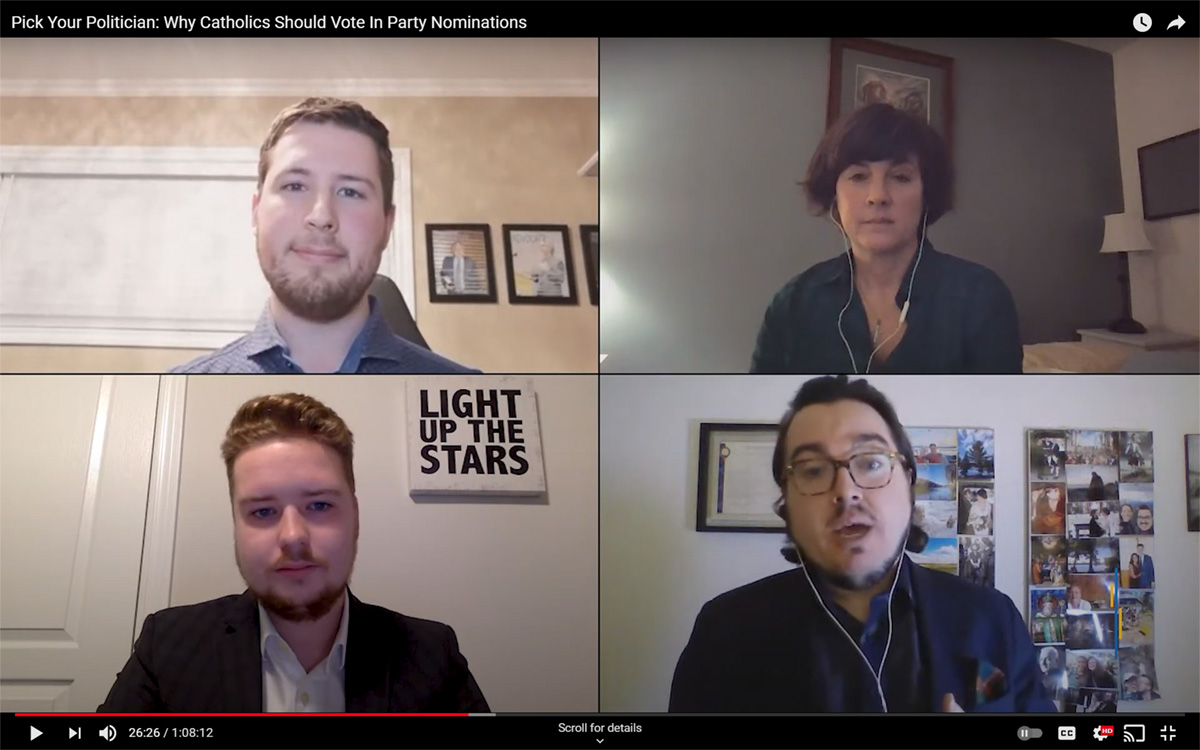 At Catholic Conscience, we produce events, webinars, content, and more, all with the aim of offering formation for civic and political leadership rooted in Catholic social teaching. These initiatives are together shared under the umbrella of our Catholic Civics Workshops program, aimed at ordinary Catholic citizens. All Catholics are called to civic and political leadership, each in particular ways. The ways we vote, volunteer, work, talk about politics with our friends and family, communicate, engage with politicians, advocate, and more, are all reflections of a Catholic witness in public life. Catholic social teaching has something important to say about all of them. Our Catholic Civics Workshops provide formation for everyday Catholic citizens to make them better servants of others, and a better force of citizens for political love in Canadian life.
There is no better model of Catholic citizenship than Saint Joseph—a humble man who served his family and others, plied his trade effectively and honourably, managed his own business, participated in civic life, taught Jesus about the Law, and more. These are all acts of Catholic citizenship we can learn from today. That's why we consecrate the Catholic Civics Workshops to Saint Joseph, the patron of Canada and workers, so that he can teach us to be better citizens in ways inspired by the Holy Spirit, and Catholic social teaching. Saint Joseph, guide us and pray for us!