An Officer and a Prophet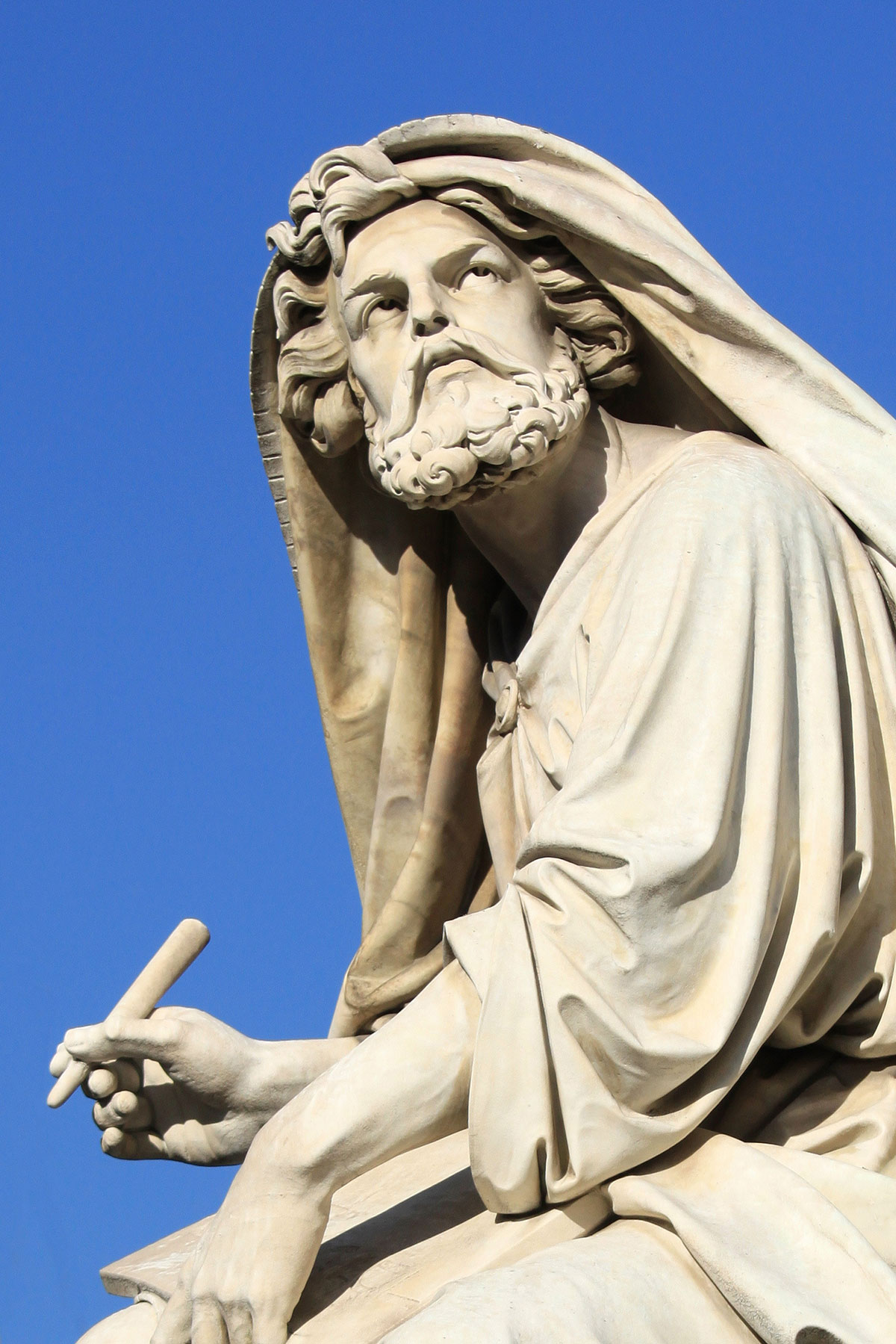 THE CATHOLIC COMMONS
An Officer and a Prophet
April 2023
Seeking Human Dignity in a Complex World
Our world is rapidly growing more complex.  Individuals seeking to thrive in business, education, retirement, child rearing, or even grade school require ever-increasing and sometimes seemingly unfair levels of moral, technical, and verbal sophistication.  We hear reports of rising levels of social anxiety, particularly among children and teenagers.[1]  On the other hand, mere subsistence seems ever easier to accomplish, and ever more widely accepted.  Social assistance in the form of basic health care, education, and housing are becoming more universally available, and increasing numbers of people in need are availing themselves of them.  But more is said to be needed.[2]   In various countries there is talk of the establishment of a basic income,[3] which in accordance with some proposals might not be tied to any requirement for attempts to find employment.
While as Mahatma Gandhi famously observed "the world has enough for everyone's need, but not everyone's greed," the proportion of income received by the top 10% of income earners has risen over the latter half of the past century and the cost of living seems to be on the rise despite overall increases in wealth and reductions in wealth inequality over the past two centuries.[4]  Many seem to drift inexorably toward subsistence at the doubtful charity of the rich.[5]
Are these trends sustainable?  Why is it ever more difficult for a single wage earner to find fulfilling work that will support a dignified life for a family?  And what of the Church's assertion that fulfulling, creative work is an essential part of human existence?[6]
What will happen as fewer and fewer of us are able to find a balance that brings fulfillment and dignity without harming others, including our own children?
These are not simple questions, and they might be susceptible to any number or variety of solutions if we pay attention and act now.  How can we identify answers; and which will we, as a family of human societies, choose?
This month we continue evolution of the format of our newsletter, in the hope of fostering conversation on the role of the Catholic conscience in shaping democratic society.
[1] See, e.g., https://www.apa.org/monitor/2022/10/child-anxiety-treatment
[2] https://www.ilo.org/wcmsp5/groups/public/—ed_protect/—soc_sec/documents/publication/wcms_817574.pdf
[3] See, e.g., https://basicincome.org/news/2014/01/european-union-more-than-280000-sign-initiative-asking-the-european-council-to-consider-basic-income/; https://thehill.com/hilltv/what-americas-thinking/512099-poll-majority-of-voters-now-say-the-government-should-have-a/; https://www.ndp.ca/news/ndp-mp-introduces-national-framework-guaranteed-livable-basic-income 
[4] Max Roser (2013) – "Global Economic Inequality". Published online at OurWorldInData.org. Retrieved from: 'https://ourworldindata.org/global-economic-inequality' [Online Resource]
[5] https://www.weforum.org/agenda/2022/04/economic-inequality-wealth-gap-pandemic/
[6] Compendium of the Social Doctrine of the Church, 255-266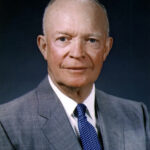 Dwight Eisenhower, an Officer and a Prophet
By any standard, US President Dwight Eisenhower was a remarkable individual.  Born into a large middle-class family in the US midwest, he graduated from the West Point Military Academy prior to America's entry to World War I.  During the Second World War he led Allied armies in major military campaigns in North America and France.  After the war he served as president of Columbia University, and as the first Supreme Commander of NATO until he was elected president in 1952.  While his administration was not perfect, as president he served with the same values of truth and honor that had kept during his military career. He sought non-aggressive containment of communism and the reduction of federal deficits.  He supported Taiwan as the legitimate government of China, and opposed invasions of Egypt by Israeli, British, and French troops, and of Hungary by the Soviets.  He helped end Senator Joseph McCarthy's campaign of domestic terror and division, and signed the Civil Rights Act of 1957, sending Army troops to enforce integration of schools in Little Rock, Arkansas.
Our people expect their President and the Congress to find essential agreement on issues of great moment, the wise resolution of which will better shape the future of the Nation.
–          President Eisenhower's Farewell Address
In his farewell address to the nation this career warrior, who in the process of devoting his life to the defense of his nation had witnessed and participated in the exponential growth and power of military technology, reminded the world of the importance of trust between leaders and voters, and of respect and cooperation among political rivals.  He also warned the world to be wary of partnerships between government and industry, and of living non-sustainable lives:
Throughout America's adventure in free government, our basic purposes have been to keep the peace; to foster progress in human achievement, and to enhance liberty, dignity and integrity among people and among nations. To strive for less would be unworthy of a free and religious people. Any failure traceable to arrogance, or our lack of comprehension or readiness to sacrifice would inflict upon us grievous hurt both at home and abroad.
"Crises there will continue to be. In meeting them…  there is a recurring temptation to feel that some spectacular and costly action could become the miraculous solution to all current difficulties. A huge increase in newer elements of our defense; development of unrealistic programs to cure every ill in agriculture; a dramatic expansion in basic and applied research-these and many other possibilities, each possibly promising in itself, may be suggested as the only way to the road we wish to travel."
"This conjunction of an immense military establishment and a large arms industry is [a] new… experience. The total influence – economic, political, even spiritual – is felt in every city, every state house, every office of the… government…  We must never let the weight of this combination endanger our liberties or democratic processes. We should take nothing for granted.  Only an alert and knowledgeable citizenry can compel the proper meshing of the huge industrial and military machinery of defense with our peaceful methods and goals, so that security and liberty may prosper together."
Likewise, the president warned of giving too much power to technocrats:  "Today, the solitary inventor, tinkering in his shop, has been over-shadowed by task forces of scientists in laboratories and testing fields. In the same fashion, the free university, historically the fountainhead of free ideas and scientific discovery, has experienced a revolution in the conduct of research. Partly because of the huge costs involved, a government contract becomes virtually a substitute for intellectual curiosity. For every old blackboard there are now hundreds of new electronic computers.  The prospect of domination of the nation's scholars by Federal employment, project allocations, and the power of money is ever present and is gravely to be regarded….  in holding scientific research and discovery in respect, as we should, we must also be alert to the equal and opposite danger that public policy could itself become the captive of a scientific-technological elite."
Eisenhower also voiced concern over misuse of the environment:  "As we peer into society's future, we – you and I, and our government – must avoid the impulse to live only for today, plundering, for our own ease and convenience, the precious resources of tomorrow. We cannot mortgage the material assets of our grandchildren without risking the loss also of their political and spiritual heritage. We want democracy to survive for all generations to come, not to become the insolvent phantom of tomorrow."
The President closed with an appeal for peace – a peace based on justice:  "Down the long lane of the history yet to be written America knows that this world of ours, ever growing smaller, must avoid becoming a community of dreadful fear and hate, and be, instead, a proud confederation of mutual trust and respect.  such a confederation must be one of equals. The weakest must come to the conference table with the same confidence as do we, protected as we are by our moral, economic, and military strength. That table, though scarred by many past frustrations, cannot be abandoned for the certain agony of the battlefield."
This remarkable and prophetic speech is less than 2000 words long, requiring 5-10 minutes to read.  It remains more valid today than ever.  Consider, for example, current controversies concerning the conduct of governments and pharmaceutical companies during the COVID-19 pandemic, and controversies regarding banks and unified, virtual currencies.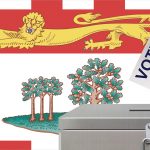 PEI Election – Can Early Election Calls Harm the Democratic Process?
On April 3, Progressive-Conservative candidate Dennis King won re-election as Premier of Prince Edward Island, and a majority in the legislature, after calling the election six months early and giving voters and opposition parties less than a month to prepare.  While the victorious King hailed the election as a vindication of "positive politics" and promised humility and kindness in his dealings with opposition parties, some observers have questioned his both motives and the democratic validity of setting the date early and allowing so short a time for reflection and conversation.
CBC News reported that in his victory speech on April 3, Mr. King promised humility and kindness after winning 2nd term as P.E.I. premier, proclaiming "My friends, we should make no mistake… Island voters tonight rendered a verdict and they rendered it loudly and they rendered it clearly. And that verdict is that positive politics is alive and well on Prince Edward Island."
In a related article, however, CBC reported that fewer than 70 per cent of registered voters had turned up at the polls, by far the lowest voter turnout in the province for the last six decades – PEI is famous for having an engaged electorate.  An Island political observer was quoted as saying, "That's something that I hope this government looks at because, quite frankly, that was a cynical response to an early election call.  My gut tells me that they [voters] were not engaged, that this was not an election that they thought was necessary." CTV news quotes the same observer as saying that Mr. King's party enters its second term "carrying baggage," in that it can no longer blame the previous government for problems. "Now they have to take responsibility," Mr. Desserud said. "The charm of the leader starts to wear a bit thin."
Premier King was quoted as calling opposition members "very capable individuals," saying that he has worked with them in the past and looks forward to working with them in the future.  "I've been the same since I started. I'm not going to change now," he told CTV.  "I'll seek their input. I'll try to work with them the best I can, and I think we'll deliver a good government for P.E.I."
Church teaching

The Compendium of the Social Doctrine of the Church teaches that truth is one of the four fundamental values of Catholic social teaching, along with freedom, justice, and charitable love; and that
The Church values the democratic system in as much as it ensures the participation of citizens in making political choices, guarantees to the governed the possibility both of electing and holding accountable those who govern them, and of replacing them through peaceful means when appropriate.  Society, the Compendium says clearly, has a right to information based on truth, freedom, justice and solidarity.
Truth is fundamental to any just form of government. Without it, no democratic government can survive. Even when – as we always should – we seek consensus in our democracies, that consensus must be founded on truth, if it is to endure, and not on currently-popular fads or preferences. It is the firm conviction of the Church that there exists an eternal, external truth – a truth that exists outside of us and is not defined by humans – and that are bound to it. That truth is God, and is given to us through the living Word of God, Jesus Christ. Options and preferences based on current circumstances can vary over time, but not the deepest truth. The deepest truth is not subject to political whim or advantage.
Men and women have the specific duty to move always towards the truth, to respect it and bear responsible witness to it. Living in the truth has special significance in social relationships. In fact, when the coexistence of human beings within a community is founded on truth, it is ordered and fruitful, and it corresponds to their dignity as persons.

Modern times call for an intensive educational effort and a corresponding commitment on the part of all so that the quest for truth cannot be ascribed to the sum of different opinions, nor to one or another of these opinions.
Compendium of the Social Doctrine of the Church, 198, 406-410
It would seem obvious that in some cases, such as electing a government to lead a province over a period of four years, time might be required to develop a mature conversation on the issues, based in truth, and to allow developed social conversation.
Points to Ponder

It is commonplace, and apparently accepted by voters, for parties in Canada not to issue platforms more than about three weeks before an election. Presumably, it requires at least that length of time to ensure that they are as up to date and as enduringly relevant as they can be, in the circumstances surrounding an election, and to publish them.

It also takes time for voters to read, digest, and consider them responsibly before voting.

In this case, the platforms – which were all published less than three weeks before the election – total 157 pages in length:  the Green is 31 pages long, the Liberal 47, the NDP 35, and the Progressive Conservative 44.

Is it fair to expect voters, reporters, or others to read and digest 157 pages of partisan material, compare it, and consider it responsibly prior to voting, with less than three weeks time, particularly in these very busy days we live in?
Who gains from pulling surprise early elections? The voters?  The people?
Even when elections are conducted with ample warning, it is common practice among Canadian political parties to wait until 3 or 4 weeks before an election to publish their platforms. Given that platforms used by voters to elect governments can fairly be viewed as social contracts, and that parties should know their policies and proposals well in advance, what is the purpose of waiting until so close to an election to publish platforms?  Who gains, and who loses, by such approaches?
Catholic Conscience has notice that some parties tend to remove all traces of their platforms and proposals from their websites immediately after an election is completed, thereby making them difficult for voters and other civic students to access. What is the purpose of such a practice?  Is it fair to voters?
What can, or should, be done to ensure that adequate time for developed conversation and due contemplation is available for voters who hope to prepare for elections, and that adequate records of the positions of parties are maintained for public reference?
May 29, 2023:  Alberta General Election
Catholic Conscience resources: https://catholicconscience.org/canada/alberta/election2023/
October 1, 2023: Northwest Territories General Election
October 3, 2023: Manitoba General Election
August 3, 2024: Australia General Election
November 8, 2024: United States Federal Elections
Eisenhower's address
This month's prayer is taken from President Eisenhower's farewell address, which can be found at:
https://www.archives.gov/milestone-documents/president-dwight-d-eisenhowers-farewell-address
We pray that peoples of all faiths, all races, all nations, may have their great human needs satisfied; that those now denied opportunity shall come to enjoy it to the full; that all who yearn for freedom may experience its spiritual blessings; that those who have freedom will understand, also, its heavy responsibilities; that all who are insensitive to the needs of others will learn charity; that the scourges of poverty, disease and ignorance will be made to disappear from the earth, and that, in the goodness of time, all peoples will come to live together in a peace guaranteed by the binding force of mutual respect and love.
We're busy, and growing – the harvest is plentiful, but the laborers are few. Please consider helping if you can. This year we plan to move into at least four new jurisdictions, and we may face surprise elections elsewhere. While most of our labourers are willing to help us for free, that doesn't seem right to us. It takes time to do the job right, and we like to offer stipends. As Saint Paul said, "a worker deserves her pay."